Italy : 4-Star Umbria w/Flights, Meals & Car Hire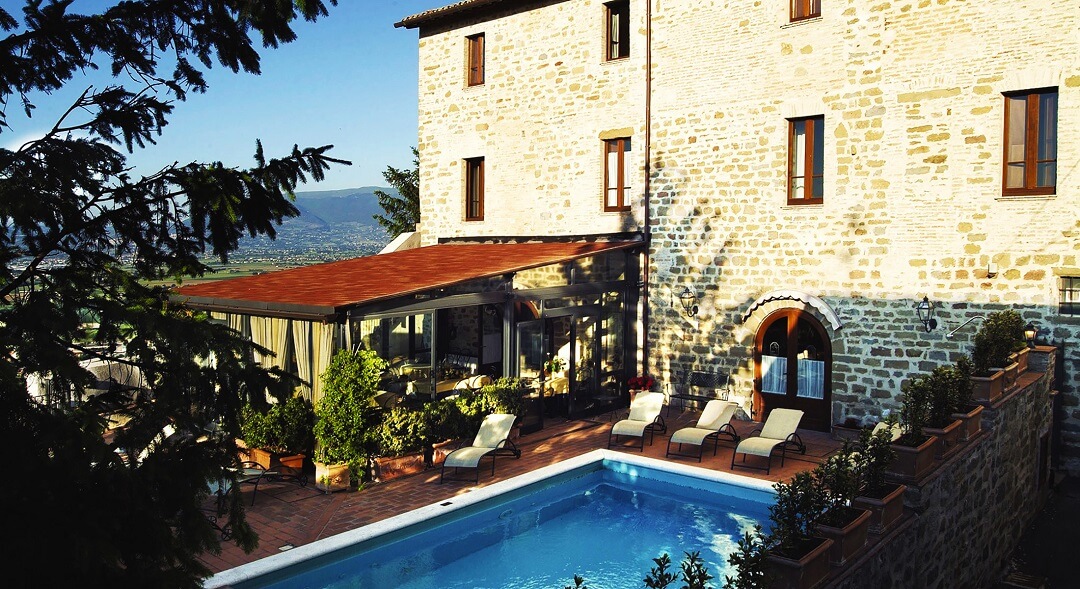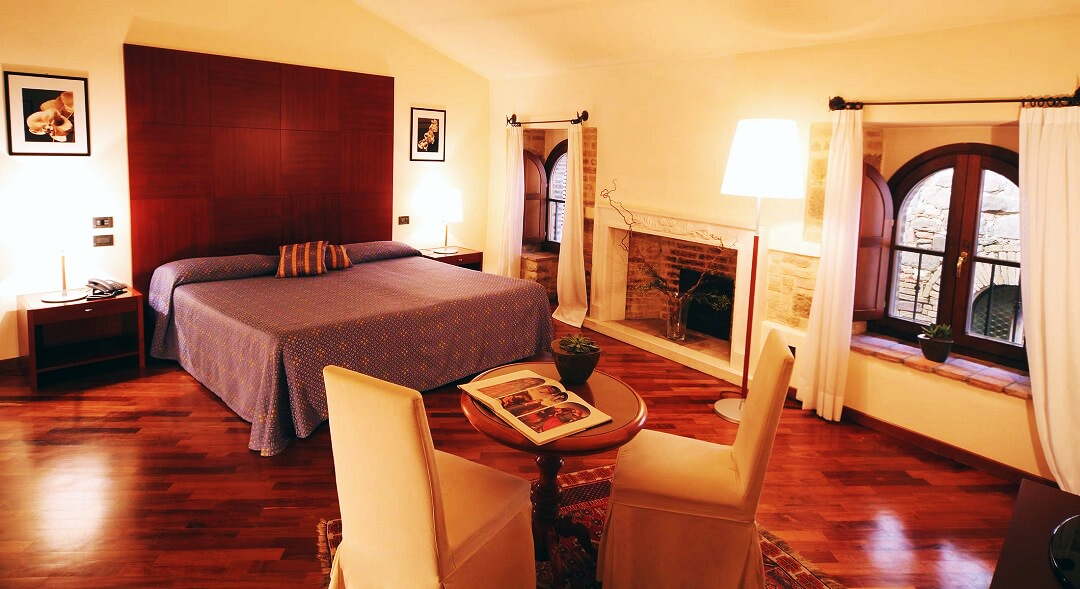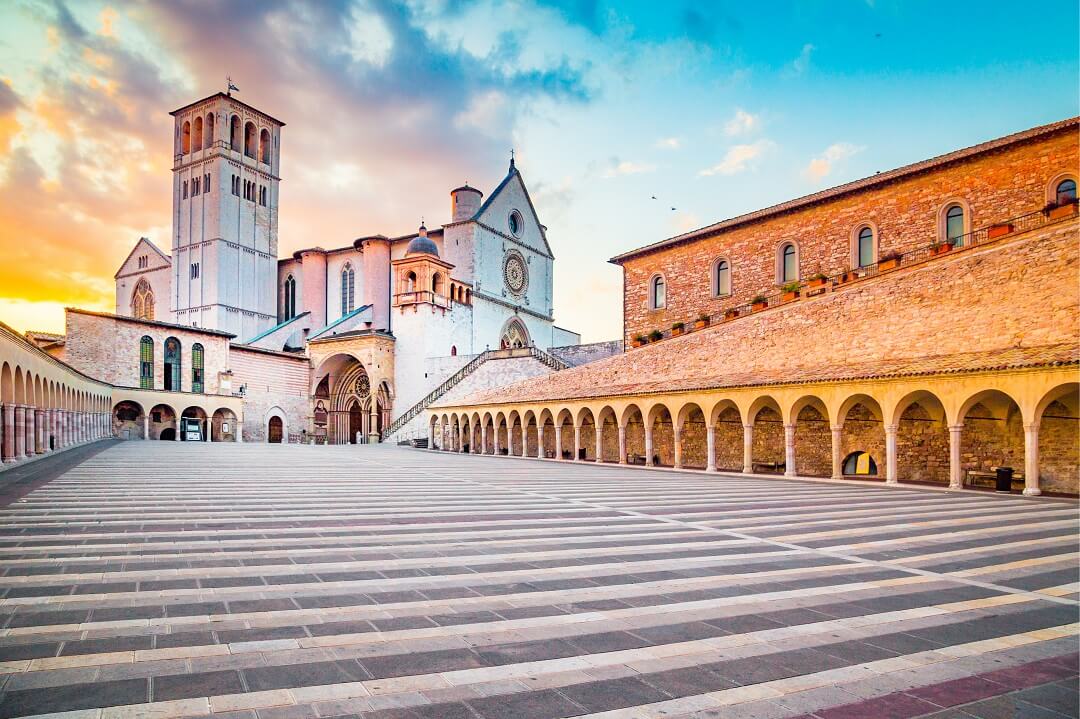 View Gallery
The Relais & SPA La Corte di Bettona lies in the heart of the old town centre. In fact, it's entrance faces the main square. The building, which was originally a medieval "hospitale" for pilgrims and orphans in the 14th century, stretches out within the village in a series of enchanting terraces, solariums, and lookouts that are perfectly equipped and designed for guests seeking a truly exclusive relaxing holiday.
The hotel has 39 rooms including Classic, Deluxe, Junior Suites, Suites. All rooms are eleglantly furnished and in every room you can see the attention to detail and attention to a truly exemplary restoration in the distribution of space, as in the recovery and integration of construction materials. Each room has individual climate control (heating and air conditioning), with satellite TV Sports and Movies, mini bar, telephone, private safe and free WiFi.
The attention and refinement of the Relais La Corte di Bettona could only be exalted in the kitchen. The restaurant "La Taverna del Giullare", situated in old oil mill, will surprise guests with the best and most typical dishes of traditional Umbrian cooking characterized by strong, real and genuine flavours. There is the best of the regional enogastronomy of Umbria: starting with extra virgin olive oil cold pressed, the cold cuts of Norcia and Bettona, the mushrooms of the local woods, truffles and legumes from Valnerina, to the exceptional local wines. A warm and intimate environment is the setting for these delights with the possibility of eating on the veranda facing a unique and amazing view overlooking the Umbrian countryside.
Rooms are equipped with air conditioning and central heating. Some rooms have a balcony, which gives guests additional space for rest and relaxation. A safe and a minibar are also available. A telephone, satellite television and WiFi ensure optimal comfort. Bathrooms are equipped with a shower and include a hairdryer.
This hotel is located in the centre of Bettona.
Facilities
Bath
Shower
Hair Dryer
Mini Bar
Aircon
Central Heating
Safe
Balcony
Tv
Sports
Sunloungers
Parasols
Sauna
Steam Bath
Gym
Number Of Pools
Meals
Half Board
Breakfast Buffet
Facilities
The hotel has a lift and features 39 rooms. The hotel offers room service. Wireless internet access is provided in public areas. Guests arriving by car can park their vehicles in the car park.
Sports
The pool complex promises pleasant and carefree swimming. Sun loungers and parasols are available on the terrace, where guests can enjoy a quick break or relax for hours. Guests can enjoy various leisure activities, including a gym and a spa or, for a fee, a sauna and steam bath. Copyright GIATA 2004 - 2020. Multilingual, powered by www.giata.com for client no. 702545
Meals
Various dining options are available, including a restaurant, a dining room and a bar. Half board is offered as a catering option. A generous breakfast buffet guarantees a great start to the day.
Other Options
Add on 2 nights in Rome at the 4* Gambrinus hotel BB from £99 pp
Rome is known for its immensely rich historical heritage and cosmopolitan atmosphere. Stay for 2 nights in Rome to explore one of most beautiful cities of the world.
Extra nights from £55 per person per night on Half board
Extend your stay to explore the nearby excursions like Perugia a city that was born and developed in the Etruscan era, strategically located on the hill top. Assisi 40 km from Abbazia is without doubt one of the places that is worth the visit, to enrich your stay in Umbria. Gubbio is considered one of the most beautiful cities not just in Umbria but in Italy. Foligno just 35 km from Abbazia Collemedio is a historic center rich in artistic and cultural beauty. Spello perched on Mount Subasio is one of the most beautiful villages in Umbria. Todi is one of the most beautiful medieval towns and is just only 20 km from Abbazia Collemedio. Deruta is also considered as one of most beautiful villages in Italy.
Transfers & baggage
Add baggage from £50 per bag return